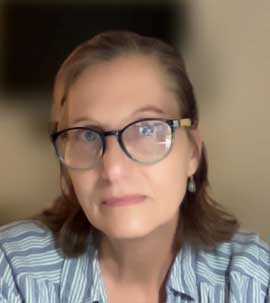 Karin vonKrenner
Slobodna spisateljica i novinarka koja je izvještavala diljem SAD-a, Europe, Azije i Bliskog istoka/ Savezna Republika Njemačka
Karin vonKrenner je slobodna spisateljica i novinarka koja je izvještavala diljem SAD-a, Europe, Azije i Bliskog istoka. Rođena u SAD-u od njemačkih roditelja, piše ciljana izvješća o političkim i pravnim analizama. Njezino novinarstvo ističe probleme uključujući zlostavljanje djece, trgovinu ljudima, političko nasilje i druge krize ljudskih prava koje se javljaju u svijetu. Godine 2002. osporila je Haašku konvenciju o otmici i bila ključna u stvaranju međunarodne zaštite za žene i djecu koji su bježali preko granica od obiteljskog nasilja i drugih kriza. 2020. godine, dok je izvještavala o pandemiji i prosvjedima diljem SAD-a, osnovala je www.Project-ASK.org koristeći umjetnost kao platformu za komunikaciju i društvene promjene. Karin je bila nominirana za: Women Of Distinction, Athena Award, Women of Resilience, Anja Niedringhouase Award i druge dok je intervjuirana diljem svijeta o svom radu na ljudskim pravima.
Karin vonKrenner is a freelance writer and journalist who has reported across the USA, Europe, Asia and the Middle East.
Born in the US to German parents, she writes targeted political and legal analysis reports. Her journalism highlights issues including;child abuse,  trafficking, political violence and other human rights crisis which arise in the world.
In 2002,  she challenged the Hague Convention on Kidnapping and was instrumental in creating international protections for women and children fleeing across borders from domestic violence and other crises.
In 2020, while reporting on the pandemic and protests across the US, she founded www.Project-ASK.org using art as a platform for communication and social change.
Karin has been nominated for:  Women Of Distinction, Athena Award, Women of Resilience, Anja Niedringhouase Award and others while being interviewed around the world on her human rights work.