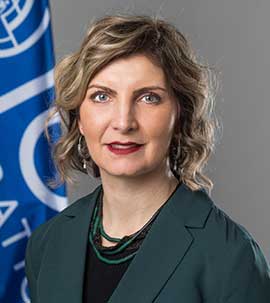 Laura Lungarotti
Western Balkans Sub-Regional Coordinator and IOM Chief of Mission in Bosnia and Herzegovina
Western Balkans Sub-Regional Coordinator and IOM Chief of Mission in Bosnia and
Herzegovina
Ms. Laura LUNGAROTTI (Italy) officially assumed the position of the Sub-Regional
Coordinator for the Western Balkans and Chief of Mission of IOM Bosnia and
Herzegovina in January 2021. In this capacity she leads the IOM actions and strategy in
Bosnia Herzegovina and the Western Balkans.
Ms. LUNGAROTTI has 20 years of experience working in international humanitarian aid
and development. First with the Italian Ministry of Foreign Affairs, then with the Italian
COSPE NGO and since 2003 with IOM in Geneva, Egypt, Yemen, Morocco, Senegal/
West Africa, and Mauritania in various capacities. Laura has contributed to the IOM's
Principles for Humanitarian Action (IOM's Humanitarian Policy), drafting the specific
chapter on Protection, and has developed the Protection Mainstreaming in crisis
response policy for IOM in 2014 and 2015. During her mandate in HQ Geneva, Laura
engaged on behalf of IOM, in the UN-led institutional discussions on alternatives to
detention in connection with the development of the Global Compact for Safe, Regular
and Orderly Migration and with the specific theme of children on the move. Specifically,
she worked on the file of UN and IOM's engagement in Libya. Prior to her posting in
Sarajevo, Laura served as the Chief of Mission in Nouakchott, Mauritania where she also
worked on alternatives to detention for rescued and intercepted migrants at sea.
She holds a bachelor's degree in Political Science - International Relations from the
University of Firenze, Italy and a Master's Degree in Anthropology of Development from
SOAS, University of London and a Post-Graduate Diploma from the Faculty of
Educational Sciences, University of Firenze on Education and Cultural Pluralism. Laura
speaks fluently English, French, Italian, Spanish and has basic level of Arabic language
too. She is currently learning local languages in BiH.