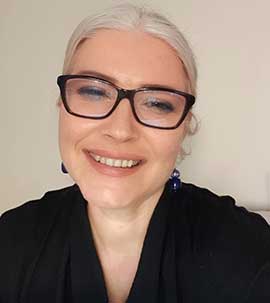 Teodora Migdalovici
LOVEANDLOBBY.COM & THEALTERNATIVESCHOOL founder, Romania
Teodora Migdalovici
AREAS OF EXPERTISE: brand culture/lobby/strategy/PR / creativity / trends emotional intelligence / design thinking / CX / UX / futurism
Tedi Migdalovici is an international public speaker and trainer, having attended, over the past 20 years, major worldwide events related to the marketing and the communication industry, with remarkable results. She has spoken on emotional intelligence, has trained creative people on their way to win Cannes Lions trophies and has shared her view of the industry's future on global stages in Belgrade, Cascais, Cairo, London, Lisbon, Kuala Lumpur, Moscow, Mumbai, Mauritius, Paris, Singapore, Sarajevo, Vienna, Zagreb.
Because of her particular way of perceiving and interpreting information, she is invited as keynote speaker at exclusive business events with focus on brand management, creativity trends, customer essence and emotional intelligence. In this capacity, she worked for British American Tobacco, Cannes Lions, Coca-Cola, Google, Geometry Global, Danone, DDB Bucharest, DDB Malasya, Nestle, New Moment, Mauritius Commercial Bank, McCann Adriatics, Mediaedge:cia, Media Marketing, Petrom, P&G Europe, Renania, UM, Unilever, Unicredit, Vodafone, McCann Tel Aviv.
She is also a brand therapist, an awarded author, a personal branding strategist at MEALCHEMY.COM and the founder of The Alternative School for Creative Thinking, one of the most successful Creative MBAs in Eastern Europe, with Gold Lions in the portfolio. In 2021 she launched the scouting platform #TalentMagnet.
Private Diplomacy Award, Brand Leadership Award, Global Super Achiever Award, European Excellence Award and Stevie Award are distinctions associated with her books, research or educational projects.
As Cannes Lions Ambassador in Romania, Teo Migdalovici has been, throughout the past decade, one of the most dedicated supporters for those creatives — both juniors and seniors — motivated to perform in Cannes and a reputed lobbyist for Creative Romania abroad, via Love and Lobby, the private diplomacy platform. In the past 4 years, her focus moved into discovering and mapping creative industries of the world, starting with various countries in SE Europe and Middle East: Egypt, Israel, Lebanon, UAE, Turkey.
In recognition for her contribution, she was awarded the 2nd place for the Most Passionate Cannes Lions Ambassador by the festival's organizers in 2013 and the Media Award for "People and Ideas that Change Romania for the Better" by Foreign Policy in 2015.
teodora.migdalovici@canneslions.ro